I woke up somewhat early the Saturday morning before our vacation and decided to grab the camera on my way out into the back yard. I was hoping for a few quick snapshots before the rain began to fall. Randy's new camera, a Sony DSC-H50, has some very cool features on it; one of which is an editor that allows you to transform your photos to a monochrome scheme while still on the camera. It even allows you to crop what area you want to remain in color and what you wish to turn into greyscale.
I managed to get quite a few great shots of some of the beauties in bloom right now and then I monochromed them all for quite a dramatic finish!
Black Liriope, also known as monkey grass, is quite interesting as the top of its leaves are dark black and the underside a deep, vibrant shade of green. The blooms are quite intriguing to me; even moreso in monochromatic photography.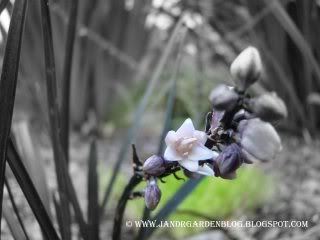 Here we have a few shots of our enormous collection of day lillies. This jewel here is called Chorus Line:
And another day lily here called Red Rum: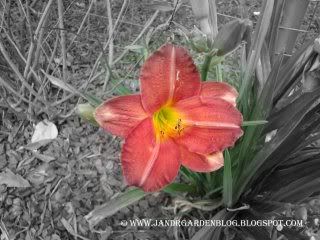 And one last monochrome day lily for your enjoyment, Apricot Sparkle!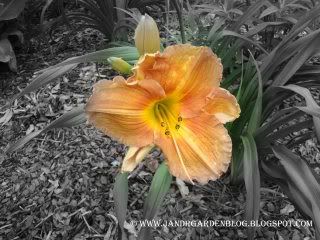 Here we have a shot of 'Oranges and Lemons' Gaillardia with a friendly little bee crawling along its delicate petals: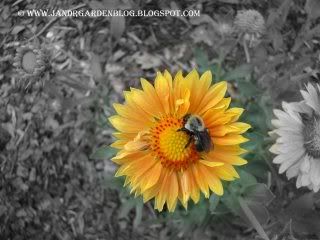 Here is a close-up macro shot of one of the fourteen 'Razzle Dazzle' Double Knock-Out roses which will eventually create a hedge at the edge of the island bed. I stare at the blooms and the color of the petals reminds me of the rosy-red lips of a delicate china doll: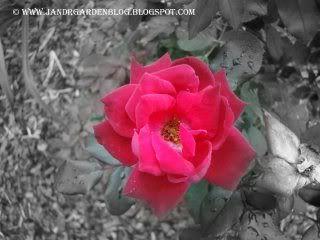 And here, we have one final monochromatic snapshot for you. The bright cluster of flowers here are from 'Homestead' Purple Trailing Verbena. Gorgeous, are they not?